Orlando's Rogue Pub and Port Orange's Tomoka Brewing Company are proud to announce their partnership to benefit Local Love Orlando Charities.
Tracy Cehovin (Owner of Rogue Pub) has partnered with Local Love Orlando in the past and wanted to find a unique way to continue raising money for the cause. Tomoka Brewing Company created a traditional malt forward Irish Red Ale. This beer is only available at Rogue Pub in Orlando. A portion of all of proceeds for the sale of Local Love Red Ale will be donated to Local Love Orlando.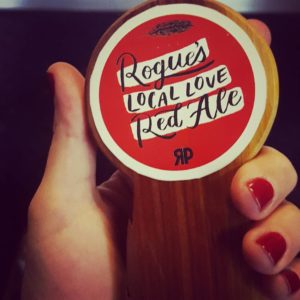 For more about Tomoka Brewery, Rogue Pub, and/or Local Love Orlando, please visit their respective websites:
Local Love Orlando started in 2015 and creates products for Orlando that are made in Orlando. Many of their products raise money for various causes throughout the Orlando area. For more information, visit www.localloveorlando.com.
Tomoka Brewing Company is a 15 BBL brewpub brewing up award winning Tomoka beers and craft cuisine. They are located at 4647 S Clyde Morris Blvd. Port Orange, Florida. For more information, visit www.tomokabrewingco.com.
Rogue Pub offers over 400 craft beers and ciders, 25 rotating taps, features a full wine list and proudly serves food! They are located at 3076 Curry Ford Rd. Orlando, Florida. For more information, visit www.roguepuborlando.com.