Press Release: Introducing DryFall, our Tampa I.P.V. O. (India Pale Vienna Oktoberfest) – A Brand-New Fusion of Flavor and Tradition!

DryFall, the Tampa-Style Fusion of Flavors
Ulele Spring Brewery, housed inside Ulele restaurant and the only brewery on the Tampa Riverwalk, is introducing a groundbreaking addition to the world of craft beer – DryFall, our Tampa India Pale Vienna Oktoberfest, affectionately known as DryFall Tampa I.P.V.O. This innovative brew brings together the best of both worlds, combining the bold and hoppy characteristics of an India Pale Ale (IPA) with the rich, malty sweetness of a Vienna Lager and the crisp, festive spirit of Oktoberfest.
Our brewery team created this distinct Tampa I.P.V.O. style as an annual farewell to months-long heat in Florida. DryFall is a celebration of summer's end.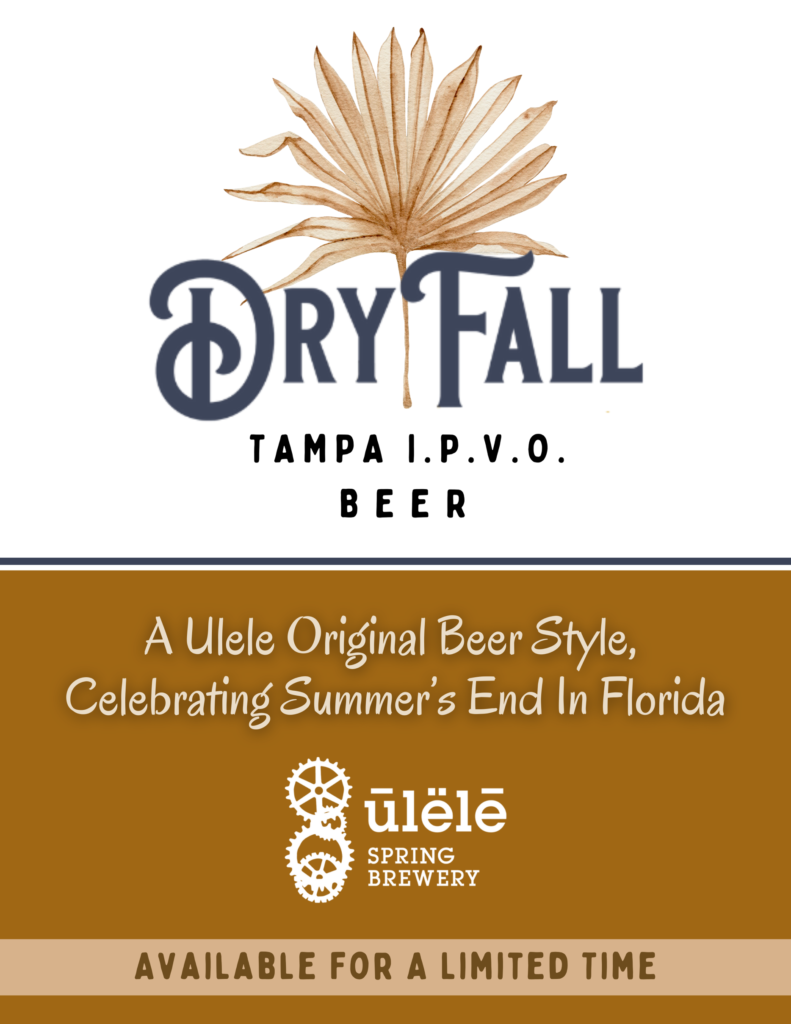 What to Expect:
Hops Meet Vienna Malt: DryFall, our new Tampa I.P.V.O., is a harmonious blend of vibrant, tropical hops and the smooth, caramel notes of Vienna malt. It's a beer that celebrates the complexity of flavors, delivering a satisfying experience sip after sip.
Perfect For The Season: As the Florida summer ends, and the air gets crisper, our DryFall Tampa I.P.V.O. is the ideal choice to toast to the changing seasons. It captures the essence of Oktoberfest while adding a Tampa twist with a burst of hops.
Crafted With Precision: Our award-winning brewmaster Tim Shackton meticulously crafted this beer, using only the finest ingredients and time-honored techniques. Each glass is a testament to our commitment to innovation, quality and flavor.
Celebrate With Us:
Join us for the grand launch of DryFall Tampa I.P.V.O. at Ulele on this year's Autumn Equinox, Sept. 22. We're pouring plenty of DryFall to go around. Don't miss this opportunity to experience the future of craft beer.
How to Get Your Hands on DryFall Tampa I.P.V.O.:
Can't make it to Ulele for the Autumn Equinox? DryFall Tampa I.P.V.O. will be available at the restaurant and Ulele Spring Brewery through the duration of autumn, starting Sept. 22. Keep an eye out for our unique label, and ask for DryFall Tampa I.P.V.O. by name.
About Ulele Spring Brewery
The 2,100-square-foot Ulele Spring Brewery in front of Ulele's beer garden creates 15 U.S. barrels (465 gallons) per brew. We offer fresh-brewed lagers and ales using only the finest malted grains, hops, yeast, fresh fruit and locally sourced honey. We create these beers using American equipment with no artificial preservatives of any kind.